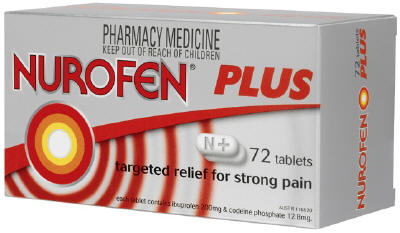 GIBRALTAR
(
GibChronicle
/ Press releases) GHA has followed a notification of a drug alert UK by issuing a statement yesterday in regard Nurofen Plus tablets. One local pharmacy, Ocean Pharmacy, has withdrawn six packages from one of the batches identified in the alert, officials said. The alert was sent by the UK Medicines and Healthcare products Regulatory Agency (MHRA). This medication is not prescribed by GHA doctors, but rather it is an over the counter preparation available in pharmacies. The GHA immediately notified each of the Gibraltar pharmacies of the recall of the product and the affected batch numbers (below).>>>
In a follow up yesterday with the pharmacies the GHA confirmed that the pharmacies are aware of the matter and have examined their stock.
The GHA advises all who may have acquired Nurofen Plus in Gibraltar, or while in the UK, to either discard the medication safely or to check that the batch numbers and product licence numbers are not those in the attached alert.
Should anyone by any chance find a potentially contaminated sample please bring it to your community pharmacist or to the GHA's pharmacy at St Bernard's Hospital.
The warning in UK said that thousands of packs of the over-the-counter painkiller could contain a potentially harmful anti-psychotic drug.
People were being warned to check Nurofen Plus packets after the Medicines and Healthcare products Regulatory Agency (MHRA) issued a safety alert following reports that some batches of Nurofen Plus contain individual blister packs of another drug, Seroquel XL 50mg.
Seroquel XL is a prescription-only anti-psychotic drug used to treat several disorders including schizophrenia, mania and bipolar depression.
Nurofen Plus is for pain relief and contains codeine.
The makers of the drug today said it was too early to rule out sabotage.
People who accidentally take Seroquel may experience sleepiness and are advised not to drive or operate any tools or machinery until they know how the tablets have affected them.
The mix-up is believed to have happened at a wholesaler's and thousands of packs could potentially be affected, prompting the MHRA to urge extra vigilance.
The packs have been found in pharmacies across the UK.
The affected packs of Nurofen Plus all contain 32 tablets and carry the following details:
Batch Number Expiry Date Product Licence No
13JJ 03/2014 00327 / 0082
57JJ 05/2014 00063 / 0376
49JJ 05/2014 00063 / 0376
Each batch contains between 4,000 and around 7,500 packs, amounting to around half a million tablets. However, not all packs are affected. The large capsules of Seroquel XL 50mg tablets have gold and black packaging while the Nurofen Plus tablets are smaller and have silver and black packaging.